How to Create Neteller Account
How to Create Neteller Account
How to Create Neteller Account: For over a decade, NETELLER has provided businesses and individuals with a fast, simple and secure way to move money online. As one of the world's largest independent money transfer businesses, we process billions of dollars' worth of transactions each year.
Trusted by merchants and consumers alike, our financial services span a broad spectrum of industries and businesses. The NETELLER service is operated by Paysafe Financial Services Limited™.
Required documents of Uk Neteller
Passport Scan Copy
Phone Number
Uk Address for verification or Neteller Support Country.
UK Bank Account Or Any your Support Country.
How to Create a Neteller Account?
Just you need the following easy steps below here. You can make Neteller Account from Any Country.
Step 1– Go to the Neteller website to Sign up for a New Account.
Step 2–  You need filling the below form for Registration Neteller Account. Please put there your complete correct detail. After Click on "Register Now" Button.
Step 3–  When you complete registration after need select country name and Currency. Please select the correct country name where you living. When you select Country and Currency click on the "Save" button.
Step 4–  Now you need to put complete correct detail like Home Address, Phone Number, etc. You follow below the photo. When you put detail there click on the "Save"  button. When you click the save button after will receive OTP (One Time passcode) to verify your phone number. When you will verify phone number then put there 6-digit source code for the transaction.
Step 5–  Now is finally Step for verification for your Neteller Account to active. You need a small amount, Documents like Passport, Government ID, Driving license, etc.  For your address verification need submit Bank Statement, Credit card statement or utility bills, etc. They take 24 to 72 hours to complete verification of your Neteller Account.
How to add money in Neteller Account for verification? 
Neteller has many options to deposit money into the account. But use "Skrill Account" for deposit money verification account.
Read Article: How to make Skrill Account from any country?
How to withdraw Money in Bank from Neteller?
Go to your Neteller dashboard click on "Money Out" then you go to Add Bank Account. When you click on add bank account after entering your bank account information.
How to Apply for Neteller Net+ Card 
You just need to follow a simple step for "Neteller MasterCard" or "Neteller Virtual Card". You need to login Neteller account then click on NET+ Card.
Now you can see second there two Options "Physical card" and "Virtual card"
You must have a balance of at least 8 GBP and verify your account before you can start using the Net+ Prepaid Mastercard®.
You must load and verify your account before you can use your Net+ Prepaid Mastercard.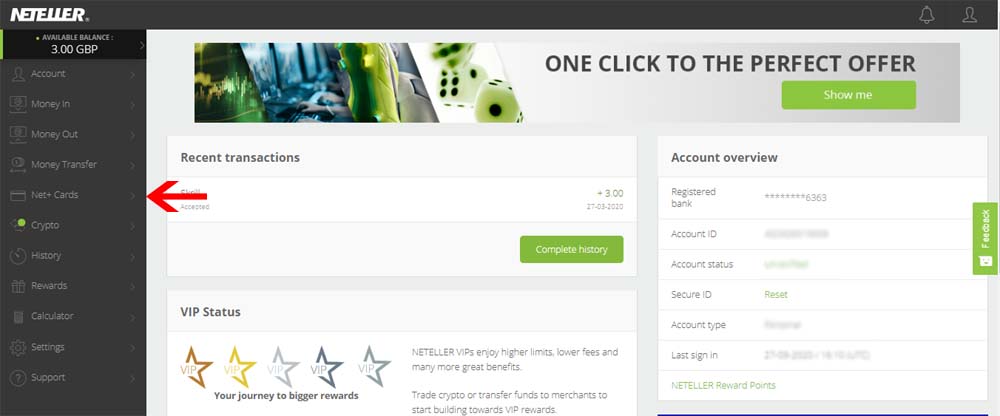 Can I send money from PayPal to NETELLER?
You can not directly send money from Paypal to Neteller. A better option for you that you can make a withdrawal in the bank from PayPal. And then you can upload it to Neteller. Otherwise, you can use exchange services.
How do I convert my NETELLER account to the NETELLER VIP account?
You need more uploads money more withdrawals more transactions and that when the transaction reaches the limit. they'll welcome you to the VIP club with more benefits and more features.
Can I transfer Bitcoins to a NETELLER account?
Before you are able to fund your Neteller account with Bitcoins you will have to choose Bitcoin as your preferred deposit method. First, you should select the "Deposit to your account" option and wait for a screen with all accepted payment methods at Neteller to load. Simply click on the Bitcoin icon and you are good to go.
How do I transfer money from Neteller to Paytm?
Well, you can't directly transfer money from Neteller to PAYTM. Because Neteller doesn't belong to INDIA. So you have to withdraw to your bank which takes a week or so and then loads payment wallet by using your debit card.
Neteller Support Phone Number?
"Customer Contact Centre" can be contacted on (toll-free) +44 20 3308 9525 or by visiting https://www.neteller.com/en/support.
NETELLER does not provide service to the following countries.
Afghanistan
Benin
Bonaire
Burundi
Central African Republic
Chad
Congo (Republic)
Crimea
Cuba
Djibouti
Equatorial Guinea
Eritrea
Gabon
Gambia
Guinea
Guinea-Bissau
Guyana
Iran
Iraq
Kazakhstan
Kyrgyzstan
Lao People's Democratic Republic
Liberia
Libya
Madagascar
Malawi
Mali
Mauritania
Mongolia
Montserrat
Myanmar
Nauru
Niger
Niue
Norfolk Island
North Korea
Palau
Papua New Guinea
Saint Barthelemy
Saint Kitts and Nevis
Saint Martin
Sint Maarten
Sierra Leone
Sudan (North and South)
Suriname
Syria
Tajikistan
Timor-Leste
Togo
Turkmenistan
United States of America
Uzbekistan
Western Sahara
Yemen